Scribbles That Matter Giveaway!
SCRIBBLES THAT MATTER GIVEAWAY!
Enter to win our exclusive 
BUNDLE

 worth over $200!!
Want An Exclusive Giveaway Bundle From Scribbles That Matter?
Right now, we're giving 1 lucky winner the chance to get their hands on our best-selling products.
Enter your email on this page for your chance to win.
The deadline to enter is midnight (GMT) November 21st 2021!
Included In The $200 Giveaway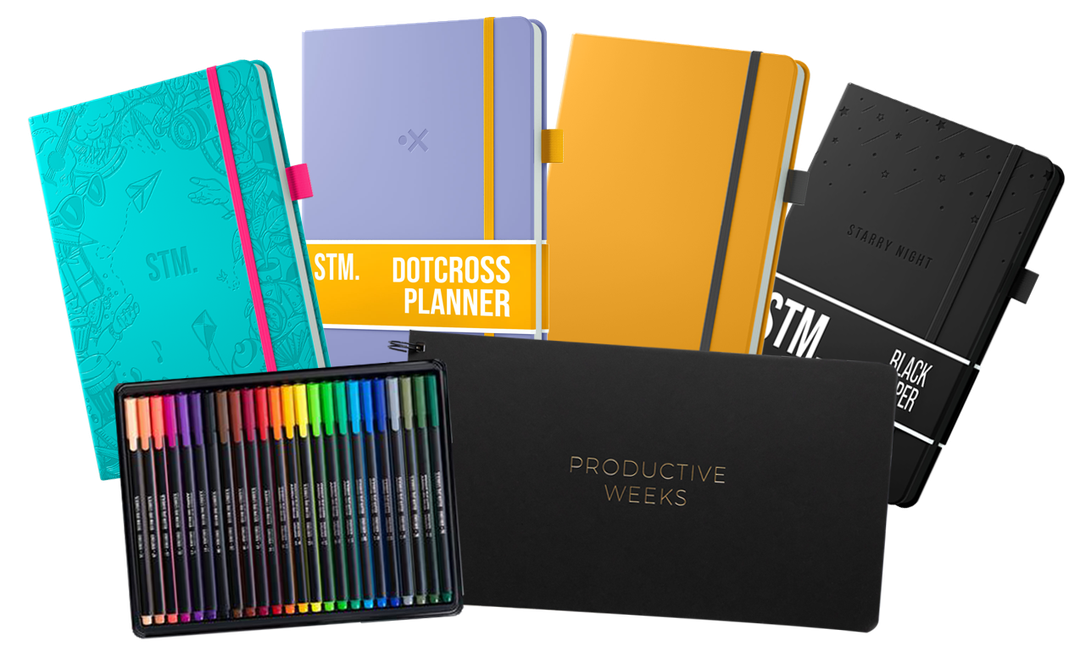 The Iconic, Pro & Starry Night Journals - These are loved by the bullet journaling community. With thoughtful details to help keep your thoughts and ideas organized
The DotCross Planner - The perfect balance of structure and creative freedom.
Productive Weeks - Structured on the law of attraction but based on scientific studies on productivity & happiness. Set weekly goals, break them down into daily tasks and focus.
Comfy Fineliners - Inks that dry immediately so you have no smears or smudges on your creative work. Dense pigment ink means no bleeding through paper.
"This bullet journal has a gorgeous rose gold hard cover. The pages are thick, bleed-proof, dotted, and numbered. This is exactly what I wanted and well worth the money for such high quality. "
— Jennifer A Devitt
★ ★ ★ ★ ★ 
"I love this planner. I've been bullet journaling for almost a year, and as a busy working mom I didn't always have the time to be as creative as I wanted to be in my bujo. This is pre-filled in just enough for me to plan ahead. It still allows me the creativity I love in a bujo."
- Chad C.
★ ★ ★ ★ ★ 
" Honestly, I love this. It combines the flexibility of a bullet journal with the consistency and convenience of a pre-made planner. If I could design my very own planner, this planner is very close to what it would look like. "
- Akuse
★ ★ ★ ★ ★ 
"I've been looking for a really good dot journal for a while. This one is absolutely PERFECT!! The color is stunning (Rose Gold). The pages are bright white, there's a pre-printed key, index and pen test pages. "
- Cynthia.
★ ★ ★ ★ ★ 
"I ordered this journal in rose gold to use as a happy little pick-me-up... It is BEAUTIFUL. The color is gorgeous, the texture is lovely, pages are nice and smooth, a sturdy weight to them. A couple super minor things..."
- Michelle Katharine.
Now Is Your Chance To Win!
Enter your information below to enter: